Read More About the Author Here: Samantha Kolock, PT, DPT, OCS, ATC, CSCS
---
As an active member of the community, I often get asked what I do for a living. I'm proud to announce "I'm a Physical Therapist!" However, there always seems to be a loaded follow up question: "So… what do you do exactly?" 
What is a Physical Therapist?
It's hard to believe that this is still such an unknown to the general public. As physical therapists, we do a lot! And since it's October – National Physical Therapy Month. I'll happily jump on my soapbox and share all the great things we do to help people participate in the things they love.
Physical therapists are movement specialists. We practice in a wide variety of fields including orthopedics, sports, neurology, oncology, geriatrics, pediatrics, women's health, cardiac, pulmonary, and electrophysiology. We aim to improve your quality of life through exercise prescription, hands-on care, and education. 
We're Doctors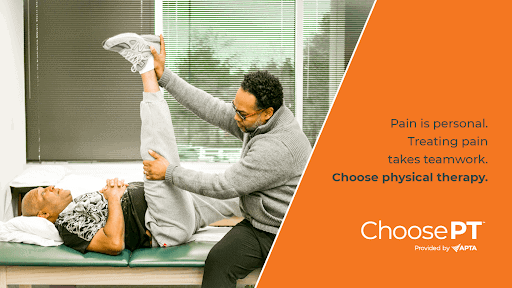 Did you know the standard level of education for a physical therapist is a doctoral degree? That's right! Most providers have received on average 7 years of higher education. Physical therapists are qualified to make a diagnosis of your condition and develop a personalized care plan to help you move and function better. We can help you manage your pain, recover from an injury or surgery, and even prevent future injury or chronic disease. 
I have heard people say all too often "well I just figured I had to live like this," speaking about a life filled with movement restriction, pain, or even chronic disease. Physical therapy is a whole profession designed around helping people with these limitations. At Austin Sports Medicine, we live by our motto "We get you back to the active lifestyle you love."
We Help You Move Better
As a movement specialist it still pains me to know that less than 10% of consumers suffering from a musculoskeletal condition will seek out our expertise. Due to overwhelming research and data supporting early physical therapy intervention, the state of Texas has made strides towards helping you have easier access to our care. In September 2019, Texas passed a direct access law, HB29, which allows you to see a physical therapist for 10 days without a prescription from a doctor.
What does that mean for you? That chronic pain doesn't have to be the boss of you. You can see an expert to help you with your recent ankle sprain, or to help you avoid falls and keep your independence. You can choose physical therapy instead of pain medications, drugs or even expensive surgeries. Did you know the CDC recommends physical therapy as a safer alternative for pain management?
You Don't Need a Doctor's Note to See Us
You, as a healthcare consumer, have the right to see a physical therapist for evaluation and treatment of your movement dysfunction and get back to living your best life. Don't just live with it, come on by our office to check us out. We'll work with you to get you back to what you love!
For more information check out ChoosePT.com.