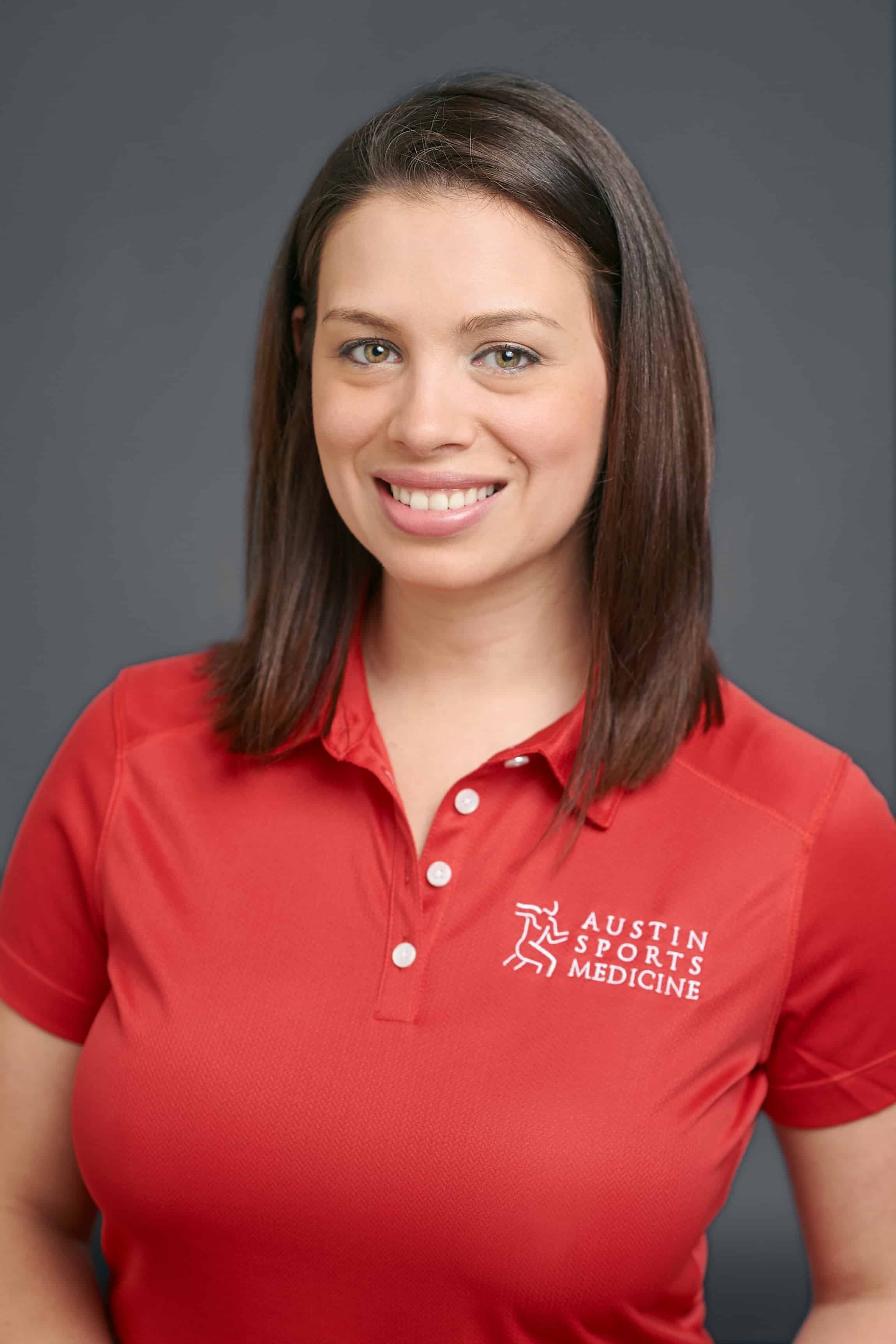 Chrissy Moreno, PT, DPT, MCPT, OCS
North Clinic Director, Physical Therapist
Christine "Chrissy" Moreno is the daughter of a federal law enforcement officer and has spent her childhood growing up throughout the US, however, has always been a Texas native at Heart. A job opportunity for her husband brought her from San Antonio, where she has practiced in a private outpatient orthopedic setting for the past ten years, to Austin Sports Medicine, becoming part of the team January 2018.
Chrissy received her Masters in Physical Therapy from the University of Texas Health Science Center in San Antonio in 2007 & went on to earn her transitional Doctorate in 2014. Before continuing her education at the graduate level, she attended St. Mary's University in San Antonio for undergraduate Biology degree where she was part of the Delta Zeta sorority.
Chrissy knows that not every single approach is right for each patient and has spent her career being trained in a wide variety of modalities to enable her to individualize her approach to best fit the needs of her patients.
She has received her Mastery Certification in Manual therapy from Hands on Seminars, is certified through Titleist Performance Institute and Functional Movement Systems, FMS Level 1, earned Dry Needling Certification, and became a board certified Orthopedic Clinical Specialist through the American Physical Therapy Association in July 2020.
Chrissy is excited to be part of the Austin Sports Medicine team as she has always had a passion for sports, growing up playing volleyball and softball, and participating in intramural sports in college. Her interest in Physical Therapy was first sparked when she suffered an ACL injury herself playing softball her freshman year of high school. Through physical therapy and hard work, she was able to return to sport and has continued to live an active lifestyle. Chrissy is happy to now be able to help others to do the same. When not spending her time at work, Chrissy enjoys exploring what Austin has to offer her young family.
Chrissy's Specialties and Certifications