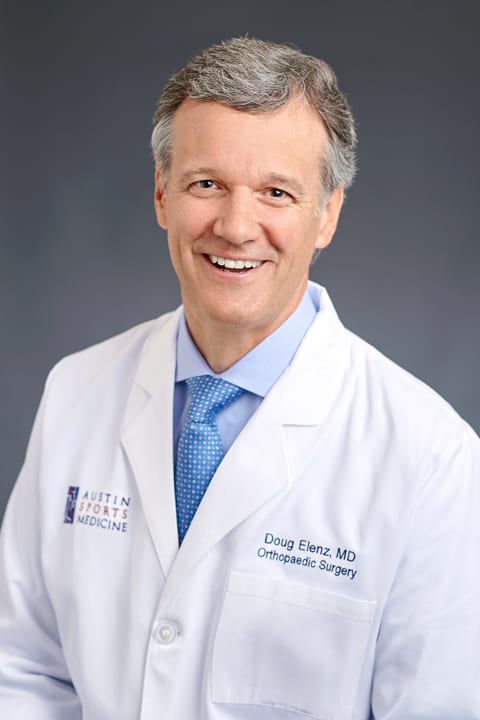 Douglas Elenz
Sports Medicine
Dr. Elenz is a board-certified orthopedic surgeon who extended his studies to earn a Fellowship in Sports Medicine. He began practicing in Austin in 1996 and co-founded the Austin Sports Medicine practice in 1999.
In 2020, Dr. Elenz was named First Team Chief Orthopedic Doctor for Austin FC, the newest club for Major League Soccer and Austin's first Major League Sports team. Concurrently, he serves as the Lead Team Orthopedic Surgeon for the athletic department at The University of Texas at Austin, a position he earned in 2015 after serving as Assistant Orthopedist for ten years. He has also served as a team physician for many of Austin's public and private high schools, including the prestigious St. Stephen's Episcopal School, for more than 20 years.
Dr. Elenz earned his medical degree from the University of Texas Medical School at Houston in Houston, Texas, and completed his orthopedic surgery residency at the McGaw Medical Center of Northwestern University in Chicago, Illinois, where he was selected to serve as Chief Resident his fifth year. He then completed a Sports Medicine and Arthroscopic Surgery Fellowship in Richmond, Virginia at the Orthopedic Research of Virginia/Tuckahoe Orthopedic Associates. His orthopedic training included experience covering both the Chicago Cubs and Pittsburgh Steeler's professional sports teams.
Dr. Elenz completed his undergraduate studies at the University of Texas at Austin, where he was a two-time captain and seven-time NCAA All-American for the Longhorn Swim team. He helped lead the team to four straight conference championships and two runner-up titles at the NCAAs. He also competed in two US Swimming Olympic Trials.
Since returning to Austin, Dr. Elenz has continued his involvement with The University of Texas. In addition to providing orthopedic care to UT athletes, he has participated in multiple leadership roles: he joined the Longhorn's T-Association, where he was selected to its Hall of Honor Council, serving as President in 2012-13; he organized and led the Dell Medical School's Inaugural Sports Medicine Clinical Conference, serving as CME Activity Co-Director from 2015 to 2017; and he was appointed a Legacy Campaign Ambassador for the Men's Swimming and Diving Legacy Fund in 2017.
During his tenure at Austin Sports Medicine, Dr. Elenz has cared for athletes of all ages and skill levels, from youth teams and high school sports programs to professional All-Stars, Olympic Gold medalists, and World Champions. His accomplishments in sports medicine have been recognized by both Texas Monthly and Austin Monthly magazines, which have named him to the Texas Super Doctor's list every year since 2004 and to the Top Doctor list yearly since 2017. In addition, Dr. Elenz works as an orthopedic design consultant and training instructor for an international medical device company, which recently released a surgical implant he helped design.
Dr. Elenz and his wife have raised two children in Austin. He continues to be a sports enthusiast and enjoys swimming, traveling, photography, and giving back to his community through service on a number of local boards. Dr. Elenz believes fully in the Austin Sports Medicine motto explaining his role as a doctor is "To get patients back to what they Love"!