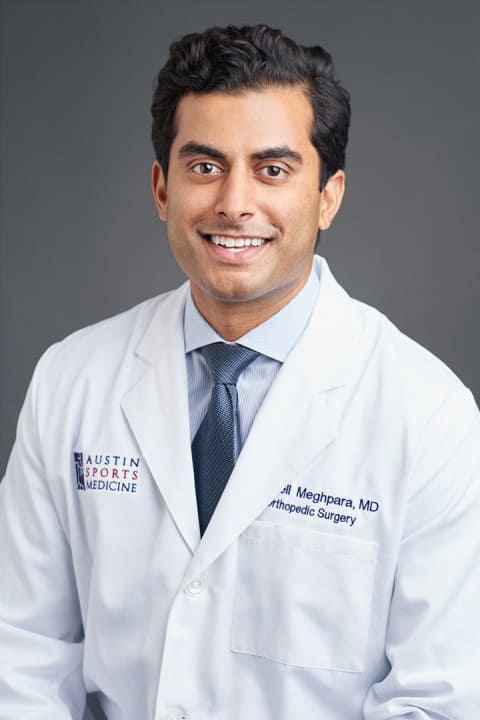 Mitchell Meghpara
Sports Medicine and Hip Specialist
Dr. Mitchell B. Meghpara is a board-certified dual fellowship trained orthopaedic surgeon specializing in sports medicine, hip arthroscopy, and total hip replacement. Dr. Meghpara grew up just outside of Chicago and graduated cum laude from the University of Illinois at Urbana-Champaign. He then completed medical school and an orthopedic surgery residency at the University of Illinois at Chicago.
Following residency, Dr. Meghpara pursued a sports medicine fellowship at the University of Pittsburgh Medical Center, where he focused on treating athletes of all levels utilizing knee and shoulder arthroscopy for injuries to the meniscus, knee cartilage, ACL, biceps tendon, and rotator cuff. He served as an assistant team physician for both the Pittsburgh Steelers and Pittsburgh Penguins. He also assisted in student-athlete care at the University of Pittsburgh for various men's and women's athletic programs.
After his sports medicine fellowship, Dr. Meghpara completed another one-year fellowship at the American Hip Institute under the direction of world-renown hip surgeon Dr. Benjamin G. Domb. This additional training was dedicated to hip arthroscopy and robotic-assisted minimally invasive direct anterior approach total hip replacement. He specializes in numerous aspects of hip care, including labral tears, femoroacetabular impingement, instability, gluteus medius tears, proximal hamstring tears, and arthritis.
Dr. Meghpara has authored and co-authored numerous peer-reviewed articles  and book chapters. He has presented his research at national and international conferences. Dr. Meghpara is also a reviewer for the American Journal of Sports Medicine and serves on the Editorial Board for Arthroscopy.
Dr. Meghpara enjoys traveling with his wife Priya, exploring new cuisines, golfing, pickleball, paddle boarding, biking, and working out.